SUNREEF YACHTS 20TH ANNIVERSARY: A TOAST TO A GREENER FUTURE
---
Category: Events
Nov. 28, 2022, 8:39 p.m.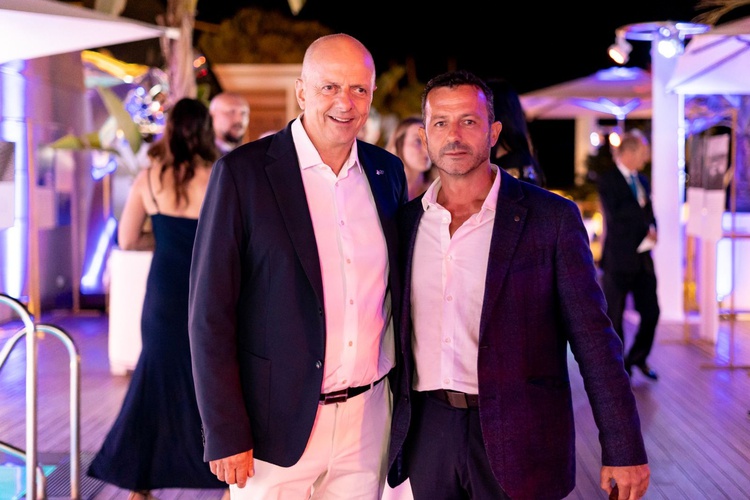 SUNREEF YACHTS 20TH ANNIVERSARY: A TOAST TO A GREENER FUTURE
This year during the Monaco Yacht Show, Sunreef Yachts celebrated the company's 20th anniversary. On September 30th the Yacht Club de Monaco hosted Sunreef Yachts' anniversary reception which gathered partners, customers and ambassadors for a unique evening celebrating two decades of innovation and excellence. The company seized this opportunity to take a look back at its biggest achievements and to share some exclusive news.
The event attracted numerous guests from all over the world, including prominent figures such as former Polish president and Nobel Peace Prize laureate Lech Walesa, sustainability entrepreneur Nico Rosberg or professional explorer Mike Horn.
A Green Super Catamaran – Sail into the Future
The shipyard has been revolutionizing the yachting world for two notable decades and aims to continue to do so by shifting the minds of superyacht owners around the world in the direction of eco-innovation. During the Monaco Yacht Show, the company announced the signature of a build contract for a Sunreef 43M Eco superyacht – the world's biggest electric leisure catamaran. Equipped with composite-integrated solar panels, a hydro-generation system, electric engines and performance sails, the yacht will offer unlimited autonomy and superyacht luxury.
Hydrogen Horizons – Zero Emissions
Sunreef Yachts' Founder and President Francis Lapp along with Co-Founder and CTO Nicolas Lapp took the stage to share some exclusive news on a ground-breaking hydrogen yacht project. Sunreef Yachts was recently commissioned to build an 80-ft sailing catamaran combining hydrogen power and electric propulsion to achieve unrivaled autonomy for a new level of eco-conscious cruising. Hydrogen will be used to power both the appliances and the catamaran's engines. The yacht will also be using Sunreef Yachts' patented solar power system with cells fully integrated with the composite bodywork. The company's R&D department is currently developing a system to use solar power to produce hydrogen on board.
The Story Continues
Celebrating 20 years of catamaran excellence, the electric Sunreef 80 Eco Marie-Joseph was showcased in Monaco for the very first time, alongside the Sunreef 80 Power Kokomo. The electric 80-footer was a real show-stopper and hosted many VIP viewings including an official visit of HSH Prince Albert II.
From the cutting-edge solar skin technology of the Sunreef 80 Eco to the timeless and luxurious interior of the Sunreef 80 Power, both done exclusively in-house, Sunreef Yachts continues to distinguish itself as a leader in luxury manufacturing and innovative technology.
With upcoming developments including the opening of a new manufacturing site and office in the UAE, Sunreef Yachts looks forward to a future of continued innovation, sustainability and success.